…continued from Enter the Banjo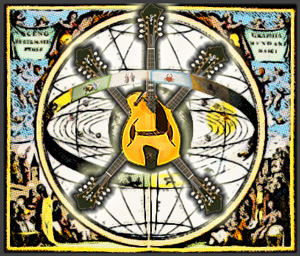 Banjo is as banjo does, a great instrument that does what it does very well. Great players take this instrument to far off places in all directions. Steve loved his involvement but found that there wasn't enough time to make this instrument meet his imagination, at least not with such a late start in life. Steve had acquired a mandolin and discovered what potential it offered. In relation to the time Steve had in a day or on this Earth, it was becoming evident that mandolin was certain to be his best instrument of choice.
The even spacing of intervals between strings made mandolin a superb tool for transposing and shifting motifs around the way a sculptor molds clay. Steve found that he could work this thing and the expression the instrument offered was additional reason to make this his main pursuit. Steve now had a way to draw upon the variety of styles that he wanted to incorporate into arrangements. The mandolin's wide range and flexibility offered avenues that made playing seem like flying.
With the willing support of other musicians, bands like Tuberville and Oui Bis began to develop a sense of ensemble that turned heads on the dance floor and offered an array of fresh styles. So open the doors to many musical treasures from all over the world, new experiments, jewels from our past, a melding and integration that appeals to the well developed listener, a drive that moves the feet across the floor, a sharing amongst musicians and their audience.
End of Story.